Editor's Note: This is from Dr. Pagtakhan's column, Medisina at Politika in Pilipino Express.
Let me start by sharing a fond memory of Kiev, Ukraine that I have cherished for decades.
Kiev, December 01, 1991: It was a peaceful Sunday morning a little over 30 years when I greeted in Kiev a woman about 102 years old: "How do you feel?"
With tears seemingly wanting to escape from her eyes, voice hoarse through a seemingly swollen throat, and muffled words slowly coming from her lips, she kindly answered: "I feel very good. I've waited for this for my whole life. I'm glad I've lived this long. I thank God."
"Thank you; have a good day."
The elderly woman was really overwhelmed by the moment. She had just cast her ballot for the independence of her native land. I had wanted to talk to her longer, but I could only do it briefly. Our conversation was facilitated by a Ukrainian Canadian translator who had accompanied our 3-Member Canadian Parliamentary Delegation to Observe the Referendum on the Declaration of Ukrainian Independence. Over 92 percent of voters approved the Declaration. A few days later, Soviet Union dissolved and an independent Ukraine was born. Canada, in fact, officially recognized Ukraine's independence the following day – one of the first two countries to do so.
It was a special experience to have as an MP; it was an experience to have as an individual citizen to observe an orderly process in a nation's return to democracy. No gunshot! No missile hit. No artillery. No ground offensive. No war! No human life lost.
February 24, 2022: What a contrast today thirty years later. Only because one man with the power of a presidency, unguided by the principles of democracy and the rule of law, has decided against humanity. Indeed, the action shocks the human conscience.
Hours before dawn on Thursday, February 24, Russian President Vladimir Putin ordered, without any provocation or justification, his premeditated assault on Ukraine – "special military operation" that sent a series of cruise or ballistic missiles and long-range artillery coming from three sides (north, east and south) and from three source-routes (air, land and sea), targeting multiple locations in the whole of the country, including around the capital city of Kiev – and "would be waged relentlessly," boasted Russian ex-president Dmitry Medvedev to the media, "until their goals were achieved."
What conceivable human goal could possibly exist to justify such a wanton act of war on a country not at war and on her civilians? Not any was mentioned. I submit none whatsoever exists, or the media would have already known. Perhaps, incumbent President Putin would simply "want to project his power far beyond the borders" of his own country. At any cost? Can it ever be excused?
To date (deadline Feb 27) – the fourth day – news reports put these numbers: at least 250 Ukrainians, including three children, have been killed and 1,115 people wounded. Nearly 400,000 elderly, mothers, youth, children and infants – have left their homes fleeing westwards towards the European Union to seek refuge in adjacent friendly countries.
Thankfully, the countries of the world, Canada included, have come to the fore to help the beleaguered Ukraine and her people. Canadians nationwide are in solidarity with Ukraine and her people. Western leaders have condemned Putin, vowed unity with Kyiv, and imposed serious sanctions. Even Putin's own people have shown disbelief and dismay. To any extent we could, we in our community anywhere we are must add our voice to the collective voice of human dignity and decency.
Minutes before the invasion started, Secretary-General António Guterres of the United Nations reportedly said at the start of an emergency meeting of the UN Security Council on Wednesday evening in New York: "President Putin, stop your troops from attacking Ukraine, give peace a chance."
An hour into the meeting, that plea obviously fell on deaf ears. The "special military operation" started in Ukraine's eastern region of Donbas. If the goal were to "protect" the Russian-speaking Ukrainians in the region, why then the incursion going to the center to occupy the capital city of Kiev, the seat of Ukraine's most popularly elected government? Or, is the capture of Ukrainian President Zelensky one of the many "goals," alluded to above?
President Zelenskyy's statement is telling: "Our strength is truth."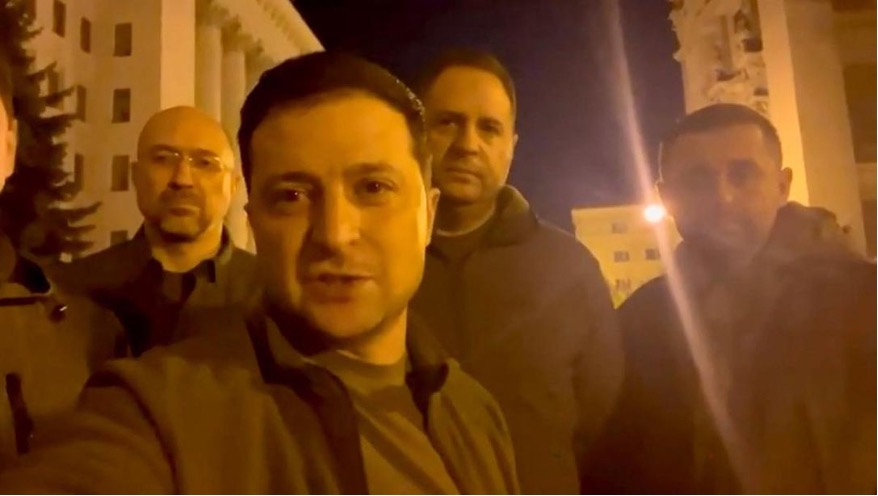 Columnist Jim Coyle reflected on Ukrainian President Zelenskyy's "power of clarity, conscience, commitment" from his statement "Our strength is truth." [Jim Coyle.'We are all here': Ukraine's Volodymyr Zelenskyy becomes a hero for the ages. Star: Feb 26, 2022]
After the Security Council session ended, UN Chief Guterres – reflecting on his "saddest moment" in his tenure – shared with reporters, addressing his words directly to Russian President Putin:
"I must change my address and say: In the name of humanity bring your troops back to Russia. In the name of humanity do not start what may be the most devastating war since the start of the century."
US President Joe Biden said: Russian President Vladimir Putin had "committed an assault on the very principles that uphold the global peace."
Indeed, Putin's act of war in Ukraine is a crime against the Ukrainian people, is a crime against humanity, is a crime against world peace.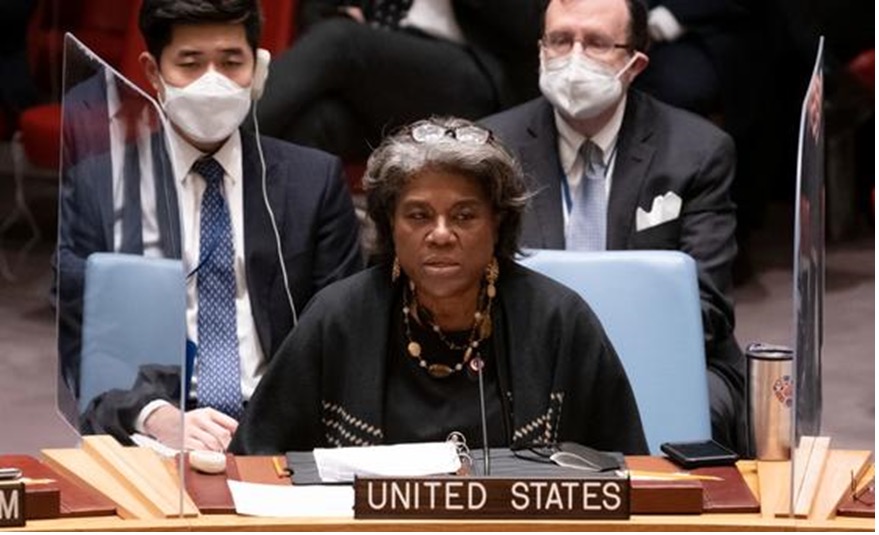 US Ambassador Ms. Thomas-Greenfield said: "This is a perilous moment and we're here for one reason, and one reason only: to ask Russia to stop. Return to your borders…And send your diplomats to the negotiating table. Back away from the brink, before it is too late."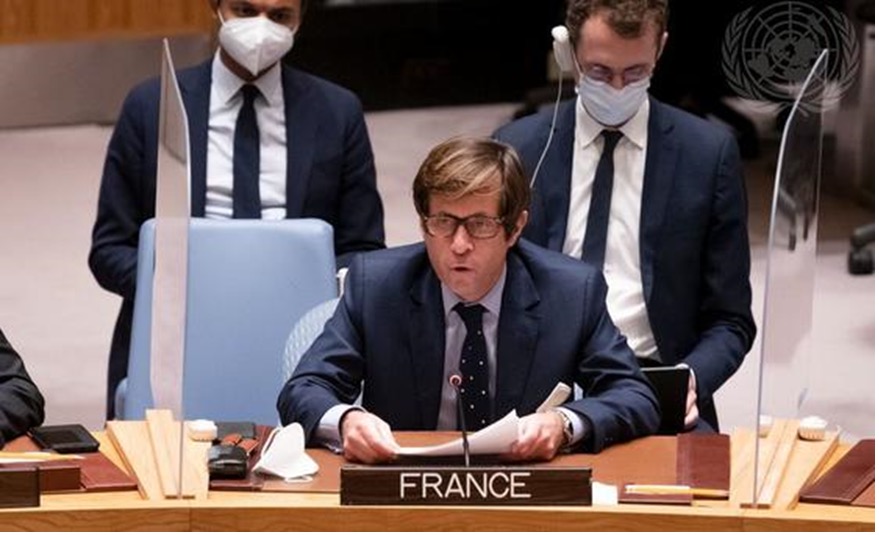 Said French Ambassador Nicolas de Rivière: "If Russia confirms that its choice is war it will have to take all the responsibility and pay the price."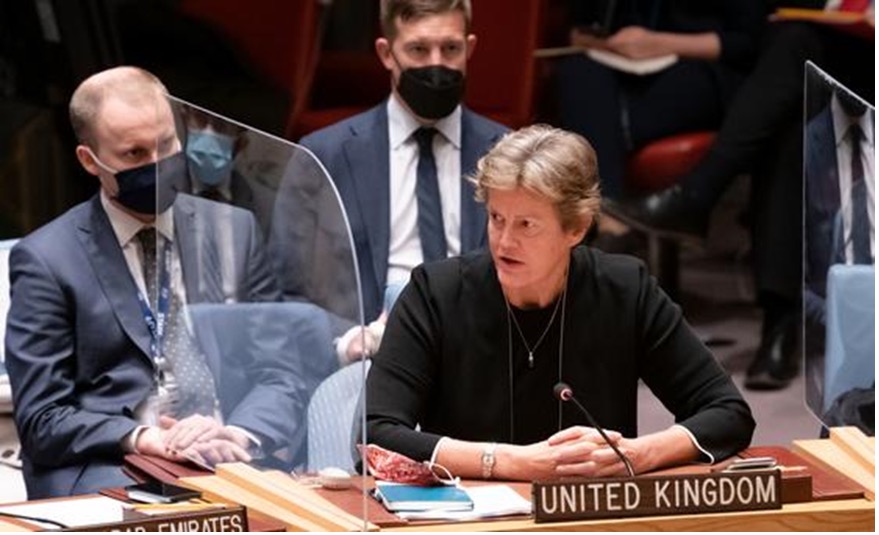 Said United Kingdom Ambassador Dame Barbara Woodward: "The world is calling for peace, but Russia is not listening. We will not compromise our commitment to the purposes and principles of the UN Charter…most of all the founding principle that we live together as good neighbors."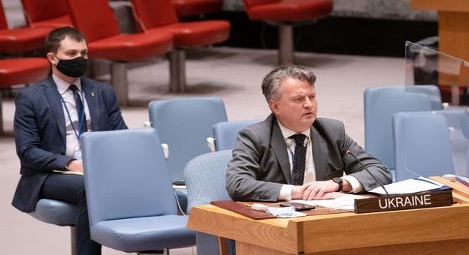 Ukrainian Ambassador Sergiy Kyslytsya welcomed the submission a resolution condemning aggression against Ukraine, saying: "There is no purgatory for war criminals. They go straight to hell."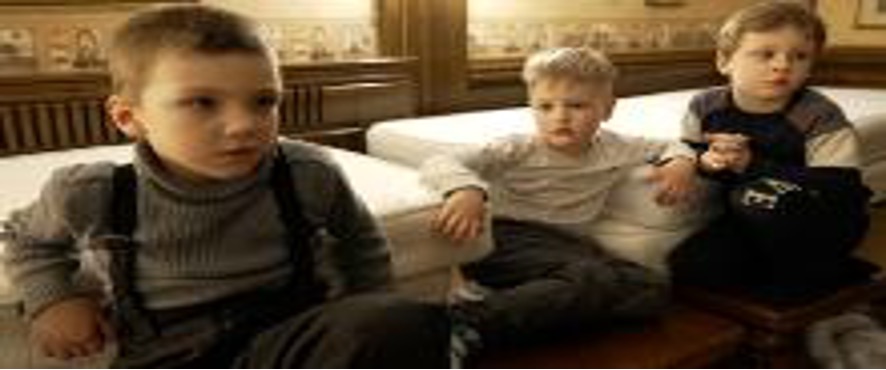 'They'll kill us all': Ukrainian children talks to CNN as Russian forces get closer to their town [CNN: M. Chance, N. Hodge, T. Lister, L. Smith-Spark and I. Kottasová: Peace in Europe 'shattered' as Russia invades Ukraine. February 24, 2022]
---