The fourth Monday of August has been designated National Heroes Day in the Philippines to pay homage to the national heroes of the country.
This year it falls on August 30. In the past, it was celebrated on the 30th of November, the birthday of Andres Bonifacio, founder of the Katipunan, to honor him and other heroes and revolutionaries who fought to overthrow Spanish and American colonizers.
After World War II, however, the Philippines was engaged in a new war – the war on poverty. As it struggled to overcome poverty for millions of its citizens, new heroes have emerged and the holiday was moved to the fourth Monday of August to celebrate and pay tribute to other known and unknown Filipinos who sacrificed their lives for Philippine freedom, development and progress after the country gained independence from Spain in 1898 and from the USA in 1946.
Why Filipinos remain poor
The Philippines is a country rich both in natural resources (e.g., nickel, copper, gold, silver, and chromium), and human resources (111,046, 913 million people in July 2021). But gone are its glory days of the '60s when it was the envy of its neighboring countries. Today hard working Filipinos remain poor while the people of other Southeast Asian countries get rich. The Philippine Per Capita GDP today lags behind Indonesia's and Singapore's but it beats both in corruption. And therein lies one of the roots of the country's poverty. Aside from corruption, there are natural disasters and unmanaged population growth which hinder progress.
Within the Asean region, Malaysia and Thailand and even Indonesia and Vietnam have nearly eliminated poverty below $1.25 a day in their countries. Singapore has become rich and progressive. What has the Philippines done to catch up?
The modern-day Filipino heroes
Overseas Filipino Workers (OFWs) are now considered the country's modern-day heroes. The term "Overseas Filipino Worker" (OFW) was used as early as the 1990s to refer to Filipino migrant workers, when Republic Act 8042, also known as the Migrant Workers and Overseas Filipinos Act of 1995 was enacted. The term OFW refers to migrant workers with Filipino citizenship who reside in another country for a limited period of employment.


There are five interesting facts about OFWs:
There are more male OFWs than females but in the age group 25 to 34, there are more females and more males in group of 40 years and over.
The largest group of OFWs is the unskilled workers, mainly laborers.
CALABARZON region (Cavite, Laguna, Batangas, Rizal and Quezon) has sent the most number of OFWs followed by Central Luzon.
The Kingdom of Saudi Arabia has been the preferred OFW destination.
Total remittance of OFWs in 2020 was $33.2 billion, or just 0.8-percent lower than the pre-pandemic level of $33.5 billion in 2019, which was 3.9% higher than the US$32.2 billion in 2018. At the average exchange rate in 2020 of P48.19 to $1, total remittances were equivalent to P1.6 trillion, or nearly 40 percent of the government's total budget of P4.1 trillion that year and eight times the P200 billion allotted by the Duterte administration as "ayuda" to help low-income families, farmers, fisherfolk, and those displaced by the Covid lockdowns.
The Philippine Overseas Employment Program
The term OFW was officially adopted by the Philippine government when the Philippine Overseas Employment Administration (POEA) adopted the 2002 POEA Rules and Regulations Governing the Recruitment and Employment of Land-based Overseas Workers. The export of Filipino workers was formally launched with Presidential Decree 442, issued by then President Ferdinand Marcos after the Declaration of martial law in 1972. The recruitment and placement program was "to ensure the careful selection of Filipino workers for the overseas labor market to protect the good name of the Philippines abroad." It was meant to be short-term only to decrease the country's need for foreign exchange.
After Marcos was removed from office by the People Power Revolution of February 1986, however, his successor Corazon Aquino issued Executive Order No. 126, which renamed the Welfare Fund as the Overseas Workers Welfare Administration (OWWA). In 1995, the Republic Act 8042, or Migrant Workers and Overseas Filipinos Act, became law.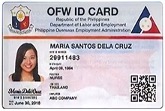 A sample of Overseas Filipino Worker (OFW) ID Card
OFWs are now considered the country's modern day heroes. Their overseas work has greatly helped reduce poverty and played a major role in saving the Philippine from financial crises. Their remittances have steadily increased to over $33.5 billion in 2019 coming from around 220 countries. About 700,000 of the world's mariners come from the Philippines, being the world's largest source of seafarers. In 2018, Filipino seafarers alone sent home the equivalent of US$6.14 billion. Because OFW families use remittances to buy goods and services, money goes directly to local businesses, leading to a corresponding increase in income in related sectors of the economy.
Why Are OFWs Called Modern Day Heroes?
Based on the results of the 2019 Survey on Overseas Filipinos, the number of OFWs who worked abroad at any time during the period April to September 2019 was estimated at 2.2 million. About 95% are classified as overseas contract workers (OCW). OCW refers to OFWs with an active employment contract, while OFWs who are not OCWs are migrant workers currently without a contract but had one within a given period of time.
According to Pinoy OFW, they are considered modern-day heroes because they experience all types of hardships – physical, mental, social, and emotional– as they work overseas for their families and for their significant contributions to the country's economy and development.
OFWs provide strong remittance inflows. The Philippines is the 4th largest recipient of foreign remittances in the world. Remittances from OFWs favor the country's economic development by playing a role in alleviating poverty and creating a stable cash flow and circulation. Remittances from OFWs have not only secured the basic needs of their own families but also kept the country's economy afloat by providing liquidity amid global financial crises. Remittance from OFWs is the second largest source of the country's foreign reserves.
OFWs are often employed in poor working conditions. Because many are unable to find a job in the Philippines due to poor educational background or lack of working experience, many Filipinos go out of the country to provide for their family's basic needs. Women are mainly employed as caregivers and domestic helpers. Despite poor employment conditions, they work patiently overseas to support their families.
OFWs suffer from separation from family. One of their biggest sacrifices is a disconnection with their families: they are not present on their children's birthdays; they cannot take care of sick parents; or attend their funeral.
OFWs endure the deleterious effect of loneliness and homesickness. The emotional consequences of working overseas — homesickness and loneliness — can be very hard to bear especially for those who are young and first-timers. Filipinos are known for closed family ties and not seeing their loved ones for several years is excruciating. They sacrifice the value of 'family' for a job.
Working abroad is both physically and mentally agonizing for OFWs without assurance of what lies ahead and what risks may await abroad. Regrettably, several OFWs have returned to their country in body bags. They are victims of terrorism, poor working conditions and unjust treatment. Many are molested and executed when they attempt to defend themselves or save their lives.
Unknown local modern-day heroes
They are the silent and humble unknowns in the Philippines who do their jobs without fanfare and with very little pay. They are the local street sweepers who keep the streets clean of trash; janitors in office buildings; the foot soldiers who watch for security threats; the rural doctors who save lives with little pay; the barrio teachers who offer their time unconditionally to nurture their students; and the firefighters who will risk their lives to rescue anyone trapped inside a burning building. Along with OFWs, these unknown local modern-day heroes are honored on National Heroes Day for their perseverance in their menial work to provide for their families and to keep the Philippine economy afloat and growing.

Eleanor R. Laquian
For the CFNet Editorial Board
Contact us at This email address is being protected from spambots. You need JavaScript enabled to view it.