A landmark work of fiction about one of Canada's biggest immigrant communities is off the press. Stumbling Through Paradise: A Feast of Mercy for Manuel del Mundo is the debut novel of Eleanor Guerrero-Campbell, a former urban planner who has worked with skilled newcomers in the country.
The novel tells the story of a fictional family from the Philippines, who came to Canada in the 1980s to build new lives.
The book was formally launched on May 21, 2016 at the Creekside Community Recreation Centre in Vancouver, where Guerrero-Campbell is based.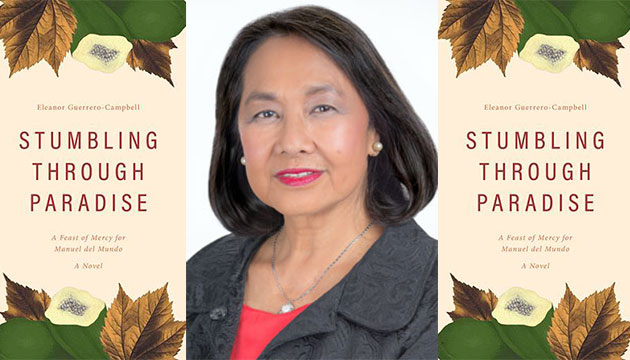 Stumbling Through Paradise reflects the struggles faced by new immigrants as they pursue their dreams in their adopted country.
When Guerrero-Campbell worked with skilled newcomers as founding executive director of an immigrant serving organization, she met highly accomplished professionals from the Philippines, China and India.
Many were in despair about failing to secure jobs in their field when they had been admitted to Canada precisely for their skills. They were devastated by the loss of status, income, confidence, and respect.
Guerrero-Campbell saw the positive impact of programs like mentoring and educating newcomers about credential recognition and the job search process in Canada.
The author weaves into the novel's narrative the problems, issues, and solutions to the underemployment of skilled immigrants through the lives of the del Mundos in Metro Vancouver.
An ambitious three-part novel built around the three generations of the del Mundos, it ends with a second-generation del Mundo aspiring for political office, challenging the multicultural mosaic of Canada as being inadequate and proposing a new way.
Guerrero-Campbell came to Canada with a master's degree in urban and regional planning from the Philippines. She worked as a planner in Edmonton, Alberta, and Surrey and Richmond in British Columbia.
She co-founded the Multicultural Helping House Society, a non-profit organization to help newcomers succeed in Canada.
Guerrero-Campbell also chaired the City of Vancouver's cultural communities advisory committee, which advocates for better integration of newcomers into city life. She has been recognized as a champion for multiculturalism and immigrant integration. The author is currently co-convenor of the city's immigrant partnership program access to services committee.
Click here to view Eleanor Guerrero-Campbell's Book Launching Photo Gallery
---
loadmoduleid 182}