Two Filipinos are among eight Asian Canadian authors featured in this year's LiterASIAN Literary Festival to be held in various Vancouver venues from September 21 to 24.
"This year's featured authors represent some of the most stellar titles being published by the Asian Canadian writing community," said Allan Cho, LiterASIAN festival director.
Cho noted that this year's festival theme, "Storytelling and the Art of the Novel" is truly special as this is its founder Jim Wong-Chu's final "masterpiece" before his recent passing this July. He added that Wong-Chu "spent numerous hours on the schedule and program which shows the type of quality writers being featured at this year's festival." Wong-Chu also founded RicepaperMagazine before establishing LiterASIAN as the first Canadian literary arts festival featuring writers of Asian descent.
Eleanor Guerrero-Campbell and Catherine Hernandez are first-time novelists but are no strangers to the Filipino diaspora.
Eleanor Guerrero-Campbell immigrated to Canada in the late '70s bringing with her a degree in English and Comparative Literature and a Masters in Urban and Regional Planning. She worked as an urban planner for cities in B.C. and Alberta. It was when she co-founded the Multicultural Helping House Society in Vancouver that she became aware of the issues surrounding new immigrants' integration into the Canadian workforce and the inability to find work related to their past job experience and credentials. Such was the inspiration for her novel, Stumbling Through Paradise which follows the struggle of a Filipino family who left their home country in search of a better life in Canada.
Stumbling Through Paradise is the story of the fictional Del Mundo family through three generations and their struggle to find their place in Canada. Unable to find work based on their skills and experience, the Del Mundos must choose between pride and practicality, survival and surrender.
Writing fiction was a promise Guerrero-Campbell made to herself when she retired in 2012. Working with multicultural groups throughout her career, she witnessed the "effects of underemployment of many of our kababayans – engineers, doctors, nurses ending up cleaning floors." Guerrero-Campbell adds, "I told myself that when I retire, I will write about this." Her years working with various cultures helped shape the characters of the novel.
Guerrero-Campbell found her writing voice in 2000, when creative writing guru Natalie Goldberg prompted her to seriously pursue writing fiction. "I thought fiction based on reality would be a powerful way of bringing the issue (of labour market integration) real to people and move them to understand and act."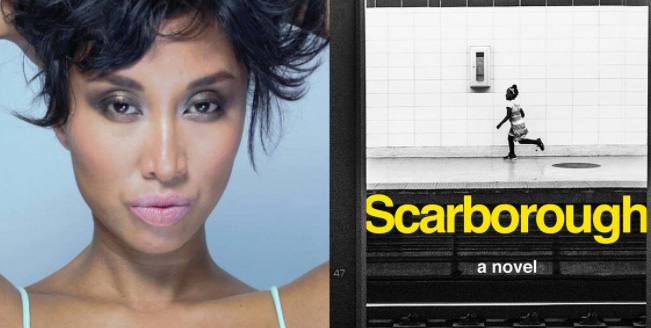 Catherine Hernandez is a proud queer woman of colour, prolific playwright, theatre practitioner, activist, children's book author, artistic director and former owner of a daycare run out of her home – the venue in which her novel "Scarborough" saw its beginnings. In an interview with NOW Toronto earlier this year, Hernandez recalls, "I'd wake up at 5:30 a.m., then start to write at 6 until parents dropped off their kids. Then I'd write again when the kids napped. When I'm doing laundry, feeding a baby, changing diapers, I'm thinking, and then at night I just write and write and write."
Hernandez's debut novel bears the namesake of suburban Ontario's low-income and culturally diverse East End. It follows the story of three children brought together under a Scarborough school's literacy program. Hina is the hijab-wearing program coordinator who has made it her mission to not only improve the children's language skills but also to offer a safe environment from the community's crime, poverty and racism. The interconnected stories of Bing, a boy struggling with his own sexual identity, Laura, a victim of her mother's neglect soon to be repeated by her father and Sylvie, a special needs child who lives with her family in a shelter provide a snapshot of the Scarborough community that Hernandez herself grew up in and is thankful to.
Born and raised in Canada by parents who are Filipino immigrants, it is with the character Bing's mother Edna that Hernandez intimately identifies with. Hernandez confesses, "All of Bing's memories are based on a concoction of memories from my childhood, although Edna's allyship as the mother of a femme queer was most definitely authored from my longings as a queer woman wanting to be accepted into the Filipino community rather than my present reality."
It is this constant longing for a Filipino connection that Hernandez wrote the plays Singkil, Eating with Lola and Kilt Pins. In 2012, to help raise funds for flood victims in the Philippines, Hernandez lay in a raft as part of performance art at a storefront space in Toronto for 24 hours without food while artists and storytellers performed around her. "Operation Lifeboat for me was my connection as someone born in Canada taking responsibility for Canada's hand in such disasters and as an act of love for my own culture," Hernandez reflects on her activism.
Hernandez considers being part of this year's Festival as "bittersweet" in that she considers Jim Chong-Wu as her much valued and well respected mentor. "I thought I was going to attend the festival and report back to my mentor about all the success my novel has had. While it is unbearably sad that he will not be physically there, I know that he will be proud of me and all of the countless Asians he has guided to literary success." Hernandez summarizes, "Every word I write now has his fire, his passion behind it."
Hernandez is currently working on a new novel about people with colour and LGBTQs forced to bear arms against white supremacists.
---
---